Smart Panel for smart life with energy saving
Phuket technology & services co., ltd. is a certified installer and reseller for a large range of choices in products of professional Smart Homes and Intelligent Building. The pleasure to control everything in your living space.
Smart, intelligent and versatile switches
Our smart switch and touch panel can all control Lighting, Air-conditioning, Blind and Shutter, Scenes, Audio and much more…
100% integrated with your interior design
Full customizable design and number of buttons, there capacitive touch pads are perfect for private house and also for commercial building with the corporate logo (resort, school, hospital, …)

House controller and remote access in beautiful case
Control Up to 96 functions directly with this color touch panel or with any smartphone or tablet anywhere on the world (Wifi or 3G connexion are required).
This amazing touch panel can control lighting, curtains, A/C, audio but also monitor water or electric consumption. The last but not the less: it can be used like a video door bell!
For more information please click here…
Designed, Elegant and Luxurious down to the last detail!
From Belgian designer and manufacturer, high-quality touch switches in material, utility and design. Choice of elegant and stylish.
Automation switches are sensitive touch pad (do not need to press, just touch) and product with high-grade materials in different material: glass, metal, anodized aluminum, stone, Corian or wood.
For more information please click here…
Functional easy to update or change by programming only
Switches with paper label or LCD screen allow easy update of functions. With no physical changing (rewired). They are advices in any project where need are subject to change (commercial building for example).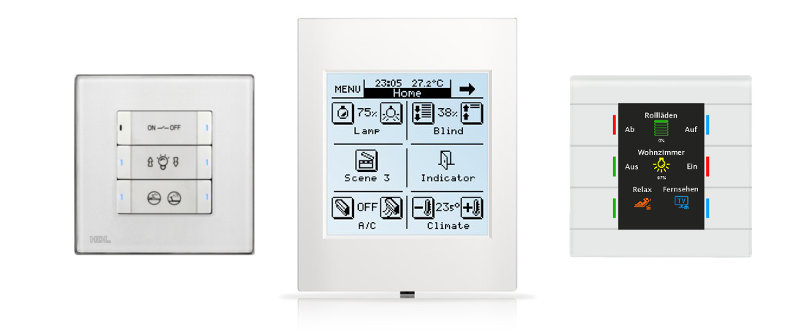 ---
Save
Save